Article
News Greek
Energia.gr to Organize «1st Energy Tech Forum» in Athens on April 1st
energia.gr
Wednesday, March 23, 2016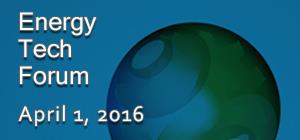 Energia.gr , Greece's pioneering energy news portal is to organize the "1st Energy Tech Forum" on Energy technologies and innovation. The event will place in Athens on April 1st, 2016. " Technopolis City of Athens" (100, Pireos str.,118 54 Gazi - Athens ) will host this open event where new energy technologies and products, innovative applications and genuine ideas currently developed by companies, universities and research centers will be presented to the public.
This special event by energia.gr, which is being held under the auspices of the Institute of Energy for SE Europe (IENE), aims at the promotion of Greece's energy technology base and the strengthening of export prospects. Thus, the "1st Energy Tech Forum" will provide an opportunity for entrepreneurship related to energy products and services, as well as to ongoing research programmes and energy companies "start-ups", to present and discuss their work. Moreover, independent energy professionals, researchers and research centers will present innovative energy systems, applications and products that they have developed.
The "1st Energy Tech Forum" by energia.gr will serve as an open technology-oriented forum for participants to communicate their work and research results on energy technologies and techniques, products, systems and procedures on a broad range of sectors to a wider public.
The main subject areas of the "1st Energy Tech Forum" include the following:
· Energy efficiency with a special reference to buildings
· New RES systems and products in the full range of applications: photovoltaics, solar thermal, wind energy, biomass, small hydro, geothermal energy.
· Software on energy applications and electricity grid management
· Electricity distribution and management of national, regional and local systems
· Power generation by hydroelectric and thermal units
· Smart grids and smart metering systems
· Meteorological systems, data collection and management
· Energy modeling and energy data bases
· Transportation and energy efficiency, CNG, electric cars, etc.
· Hydrogen and fuel cells.
· Carbon Capture and Storage (CCS)
· Production and use of biofuels
· Hydrocarbon exploration and production
A key objective of the "1st Energy Tech Forum" is for it to become a central platform of communication and exchange of ideas between research groups and potential investors and entrepreneurs in the energy field in order to promote technologies, systems and products of commercial interest.
For further information on participation please visit the event's banner.
The lead sponsor of the "1st Energy Tech Forum" is TERNA Energy SA, while Siemens is a sponsor. Supporters include Energean Oil & Gas and ENSCO SA, while the main media partner is the daily Kathimerini.