Article
News Greek
Cyprus Approves Delek Units Block 12 Rights
globes.co.il
Monday, December 05, 2011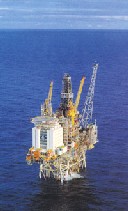 Delek Group Ltd. units Delek Drilling LP and Avner Oil and Gas LP received Cypriot government approval for 30% of Block 12 rights, held by US exploration company Noble Energy Inc. , to be transferred to them, Cypriot website "inews" reports.
Approval of the transfer of these rights from Noble to the Delek unit will encourage cooperation between Cyprus and Israel in drilling the Block 12 license, which is close to the Leviathan field.
Noble Energy believes that there is only 3-9 trillion cubic feet (TCF) of natural gas in Cyprus 's Block 12, despite earlier forecasts of 10 TCF. However, Noble Energy believes that the chance of locating gas is 60%, which is considered a high estimate.