Άρθρο
Επιλεγμένες ειδήσεις με την συνεργασία του New Europe
Gazprom Plans 2nd Turkish Stream Pipe to Bypass Ukraine
by Kostis Geropoulos, Energy & Russian Affairs Editor, New Europe
Δευτέρα, 12 Ιουνίου 2017 - 17:19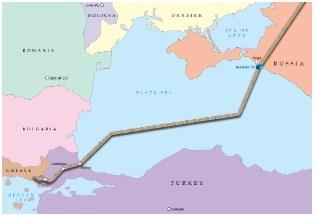 Russia's Gazprom, Greece's DEPA, and Italy's Edison have signed an agreement of cooperation in St Petersburg that envisages joint efforts aimed at establishing a southern route for gas supplies from Russia to Europe, which will run across Turkey and Greece to Italy.
The three companies said in a press release on June 2, "they would coordinate the development and implementation of the Turkish Stream gas pipeline project and of the Poseidon project from the Turkish/Greek border to Italy, in full compliance with relevant applicable legislative framework". In addition, the agreement formalises the arrangements on expanding cooperation in the field of Russian gas deliveries.
"Gazprom already begun the construction of the first pipeline of Turkish Stream and there is also an idea of beginning of construction of second pipeline," Konstantin Simonov, director of the independent National Energy Security Fund in Moscow, told New Europe by phone, arguing that it has not been decided yet whether the Russian gas via the second pipeline "will come to Greece through Turkey or the gas will come to Greece through Bulgaria".
Simonov said the Russian company signed the memorandum with DEPA and Edison because the IGI Poseidon "pipeline can be the most interesting project for Gazprom".
He noted, however, that the decision to build IGI Poseidon is not final because the project is seen as a rival to the Trans Anatolian Pipeline (TANAP) and the Trans Adriatic Pipeline (TAP) that initially plan to transport 10 billion cubic metres (bcm) of gas from Azerbaijan to Italy.
According to Simonov, Italy's ENI and Snam have lobbied for increasing TAP's capacity and using the expanded pipeline to transit gas to Italy via Greece without constructing IGI Poseidon. Gazprom could bid to use TAP's extra capacity when the pipeline is expanded after 2020.
Simonov argued, however, that Gazprom prefers IGI Poseidon, first supported by the EU as a way to bring Caspian gas to Europe, for its own use.
"If Gazprom agrees to build ITGI or to use extra capacity of TAP, there will not be enough gas to supply all consumers: Italy, Greece, Bulgaria, Balkan area and Hungary so it means, that for example, Hungary and Serbia will still be dependent of Ukrainian transit flows," Simonov said.
"It's a possible scenario because (Gazprom CEO Alexey) Miller said that Gazprom can still transit 15 bcm after the end of the contract with Ukraine but, of course, the best scenario for Gazprom is to build before the end of 2019 alternative pipeline routes to have this capacity to deliver the gas without Ukraine to all the countries," Simonov said, reminding that Gazprom is also planning to build Nord Stream-2 to Germany.
The European Commission wants at least some of the Russian gas transit via Ukraine to be maintained. "I understand, of course, there will be serious pressure from European Commission and some European countries but Gazprom can say: 'Okay, we will transit 15 bcm, but it's better to have alternative routes with enough capacity than not to do it,'" Simonov said, adding that if Gazprom has alternative routes after 2020 it will be able to solve possible gas transit problems down the road. "It doesn't matter whether Ukraine will still be a transit country or not, but it's better to have possibility to deliver the gas to the south of Europe without Ukraine," Simonov argued.
https://www.neweurope.eu/article/gazprom-plans-2nd-turkish-stream-pipe-bypass-ukraine/